SOLO stands for Structure of Observed Learning Outcomes.
It was developed in 1982 by John B. Biggs and Kelvin Collis to outline a hierarchy with 5 levels that attempts to assess the students learning based on the quality of their work.
With SOLO taxonomy, teachers and students are able to:
thoughtfully design learning intentions and learning experiences
identify and use effective strategies and success criteria
provide feedback and feed forward assessment of learning outcomes
reflect meaningfully on what to do next
Here's a simplified version of SOLO taxonomy:
Here's the technical version:
Let's break it down to understand what each level means:
Prestructural – Lower Order

Students acquires unconnected information.
The information is not organised amd makes no sense.
Students respond with "I don't know, I'm parroting what I am supposed to say", or write an irrelevant comment.
UniStructural

Simple connections are created between ideas.
Students may be able to give a vague or general answer, know some terms relevant to the topic, not able to explain the terms in depth when pushed.
Keywords: Identify, name.
MultiStructural

More connections are being created, but lacks the meta-connections between them.
Students' knowledge remain at the level of remembering, memorizing and parroting what they have learned.
Students have surface level understanding. They are like builders without their tools – all the pieces are there, but they don't know how they connect.
They cannot use a concept in new and innovative ways because they simply don't understand it well enough.
Keywords: Combine, describe, list, order
Relational

Student sees the significance of the various pieces of information and can develop relationships between them.
Students can identify patterns, explain how parts of a topic link together, compare and contrast different elements of a topic, view a topic from several perspectives.
Keywords: Analyse, apply, argue, debate, compare, contrast, check, judge, critique, explain, moderate, relate, integrate, justify
Extended Abstract – Higher order

Students can make connections beyond the problem, Can generalise and apply to new situation, Can transfer learning and make links between subject areas.
Students may learn something in the classroom and apply it in their lives outside in a different context.
Students may also be able to develop theoretical ideas and use them to make assumptions about future events.
Keyword: Reflect, evaluate, create, hypothesis, design, invent, conceptualise, theorise, project, abstract
Here's an example of how the SOLO taxonomy can be applied to a learning objective "Who is the best footballer, Ronaldo or Bale?":
Like Bloom's taxonomy, verbs are used to identify what actions take place at each level.
Here are samples to illustrate how the SOLO taxonomy can be used to create a differentiated success criteria for functioning knowledge outcomes: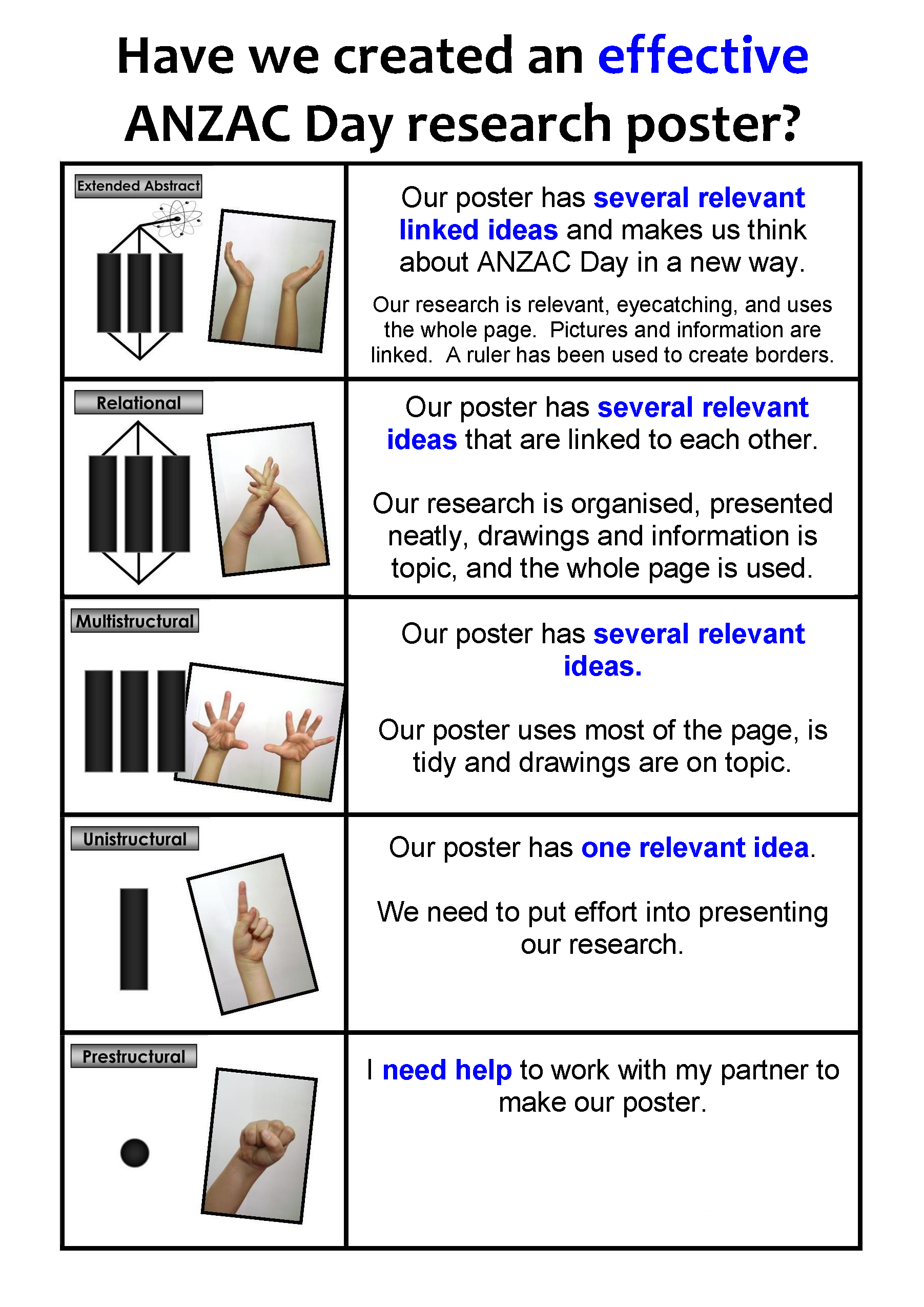 Examples of primary school students using SOLO taxonomy:
References:
Hook, P. (2021). Hooked on Thinking. Taken from http://pamhook.com/solo-taxonomy/
Hook, P.(2021). Hooked SOLO functioning knowledge rubric generater. Taken from http://pamhook.com/solo-apps/functioning-knowledge-rubric-generator/
Biggs, J. (2021). SOLO Taxonomy. Taken from http://www.johnbiggs.com.au/solo_taxonomy.html